How Republic Bank Ltd Messing Up their Digital Banking Update taught us all valuable lessons.
Republic Bank Limited released a new digital banking update. The change was meant to improve customer experience. To make it easier for them to find the information they need. Yet, the release has been more of a headache for everyone than anything else.
The update has confused many customers who are not sure how to use the new features. The latest update for their online banking service has made some customers feel lost. The new features included in the update were not very clear. They were unsure of how to navigate the new changes. The company has been receiving a lot of complaints about the update. But by the time of this writing, they have fixed many of the issues.
They assumed it was an improvement but now they were stuck with something that is not easy to use at all. Republic Bank Limited addressed the issue. They answered some questions on social media. They even released a few video explaining the changes in more detail.
---
How it all Started
Republic Bank Limited had to do some much needed upgrades to their system. For many years Republic Bank Limited had one of the better Digital footprints in the region. They led the way in Digital Banking and were forging forward with ease of doing contactless business. This all fell apart in one day when they did an upgrade. People were unable to access their accounts or losing access to certain accounts. The company reeled from the inevitable social media backlash and issued an apology. They also had to issue a lot of instructions on how people could regain access to their account. In short it was a total nightmare.
Some people who already knew the updates were happening had followed the instructions sent in previous emails. Yet those people also did say it was "touch and go" for a bit as they weren't sure if it would work. Added to the number of requests hitting the bank's server for password resets and failed login attempts also brought the whole system down. There was a cascade effect from the confusion of resetting a password. The confusion? Whether you could use special characters or not. Some said yes, some said no, and the bank said yes and then said no, then said yes again. Eventually, they rebooted the system and things began to work again. But the damage had been done.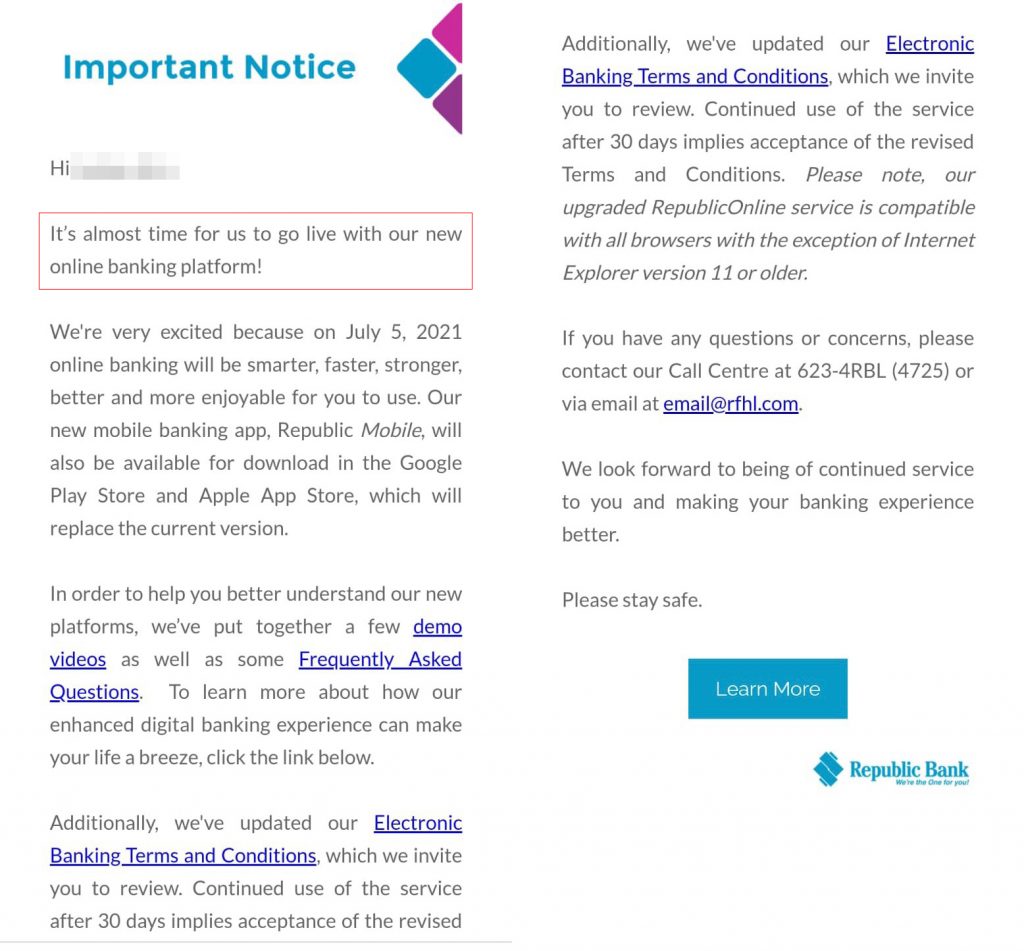 ---
The Social Media Campaign's Failure
There was no warning on social media about the impending upgrades to the system. In other words there was no Social Media "Campaign" at least none that we could see. However there were ads on the old digital banking portal on the website, but was not very well seen on the mobile app and there were lots of emails!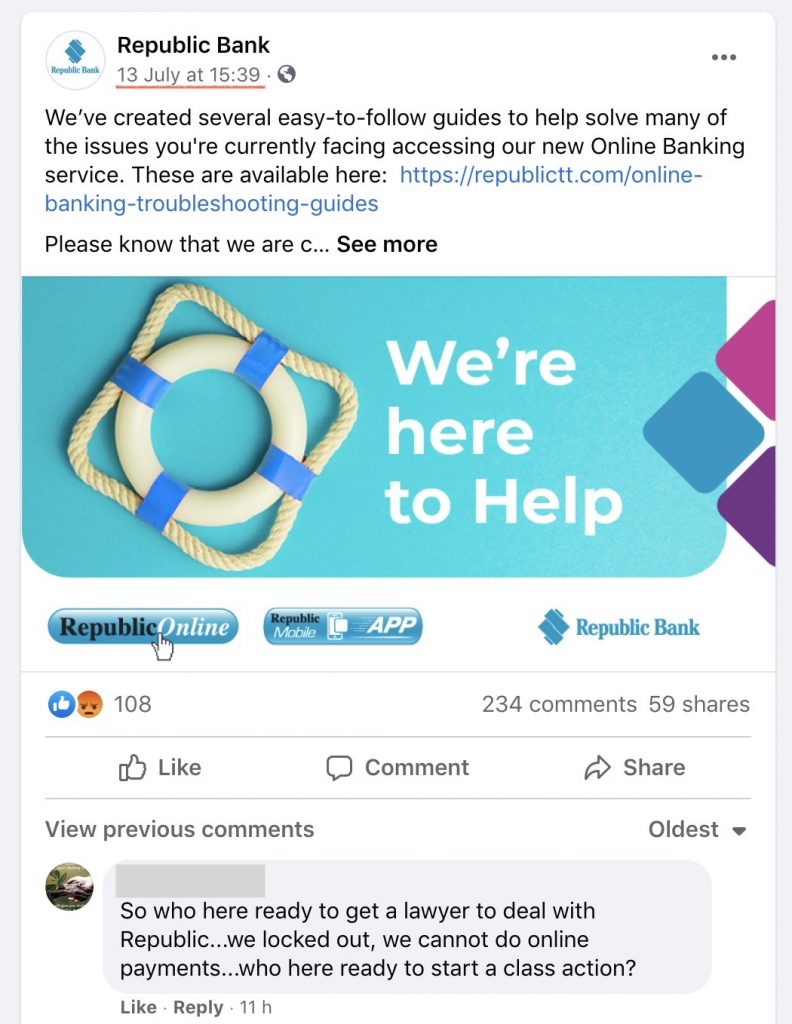 One of the biggest criticisms of the launch was people had no time to prepare. One of the most recent examples of this was when Instagram announced a new algorithm without warning and that went "well"! But this bank did send out a lot of emails. At least four emails in the weeks before the event.
Emails advising customers about impending changes are usually a good thing. I encourage email campaigns. Yet in this bank's situation, someone seeing an email from them in their inbox is a nuisance. Someone once said that we treat our personal banking like a bastard. We should always be cognizant of what's going on with our money. I mean, it's not easy to make money! Why would you treat it with such flippancy? So seeing a Bank email means you should read it.
---
Why Republic Bank Didn't See This Coming
The bank didn't foresee any problems because of many factors. One of which is understanding their customers and the technology. You would think that they have the means, knowledge, and power to understand every single aspect of banking, but digital banking still seems to have eluded them. It's possible that they may not have known how to foresee the potential problems in this case without understanding the ramification of their actions.
A key factor in this case is that the bank did not understand their customers' needs or what would work best for them on a day-to-day basis. This could be because they don't spend as much time with customers as rival banks do, or because their staff might not have the requisite knowledge required to deal with this customer group. In retrospect many factors had to line up for this failure to occur. Starting from the lesson of past upgrades, the nature of the system now and how the fallout may occur. It is clear that they were not properly equipped internally to deal with the consequences of this change.
This is actually quite scary. Considering that a company as large as a multinational bank cannot get digital banking right in this modern day and age.
---
How Can They Learn from Their Mistakes?
The bank needs to do better. But how? One way is to document past failures and learn from them.
In today's fast paced world, banks are now being held accountable for the decisions that they make and it shows in the long-term effects that they have on the communities they serve. In this section, we will look at some of the reasons why banks need to do better about what they are doing and how they can improve their performance in order to be sustainable in the future.
The bank needs to do better because it is failing customers by not providing them with products that will help them improve their financial stability while also neglecting their communities due to bad decisions. In order for a bank to be sustainable, it needs to learn from its mistakes. Give your customers and the community the opportunity to voice their feedback so that it can improve its service.
Banks are faced with the challenge of managing their economic and social sustainability. As they chase profit margins, they sometimes neglect the needs of customers. This can lead to a loss in customer loyalty and a decline in business.
It's clear that the customer had received a lot of instructions from the bank in the ensuing days. In the end, the bank is not taking any responsibility for the mistakes it made and instead keeps pushing these issues back on the customer. Customers felt overwhelmed by all the instructions they were receiving from the bank. They felt like they had to do all these things to get their account back up and running again. Moving forward a better approach is to first apologize and then try to help. There seemed to be some level of blame being passed around.
---
What's Next for Republic Bank Limited?
As with any team, there are always people who don't get along. When you run a company that's customer-facing, this can be disastrous. It's important to have a unified front. Don't give customers the impression of a fragmented company. Avoid internal politics from influencing customer experience. Resolve them if it does come up. Know that you can't do everything in a day. Rome wan't built that fast. Do incremental updates and test. Test. Test. Test. Testing is very important.
Customer experience is everything to your business. Not knowing the internal makeup of the digital upgrade team, it's hard to figure out what exactly went wrong. But one thing's for sure, adequate user testing was partly to blame. This has always plagued big company's and even small ones. The user is the boss. If you do something that they don't expect you will have a big problem on your hands. Next time Republic Bank. you 'll know better!
---
The Outcome of a Disastrous Roll-out
When you design a system, it is important to understand how the user interacts with the system. This way, you can design a system that is easy to use and navigate. For example, if a user needs to take an action based on previous actions, then they should not have to go through all of the steps in order for the desired action to be performed. It is also important to take into account what users are already doing before designing your system. Don't create a new way of doing something that users will not understand or know how to do based on their current habits. This means that it is important for designers and developers to be aware of what other software people are using and how it works so that they can create something new that will work with their current habits and tasks.
Let's hope Republic Bank Limited recovers from this. As I stated previously, they are always in the forefront of emerging technologies. Its a bank known for its innovation in the digital space. They've learned some valuable lessons, I hope other businesses look at this when designing their own systems. This is classic case of "what not to do." but how you recover and move forward is just as important. Time will tell.
Written in response to requests to document the issues surrounding Republic Bank Limited's upgrade roll out. This story is ongoing and may change as new evidence and information becomes available. Ian Reid has been in digital marketing since "digital marketing" became a thing, with over 20 years experience in the advertising space he knows his stuff. If you'd like to know how you can strategise and successfully roll out a digital campaign then get in touch and let's chat.